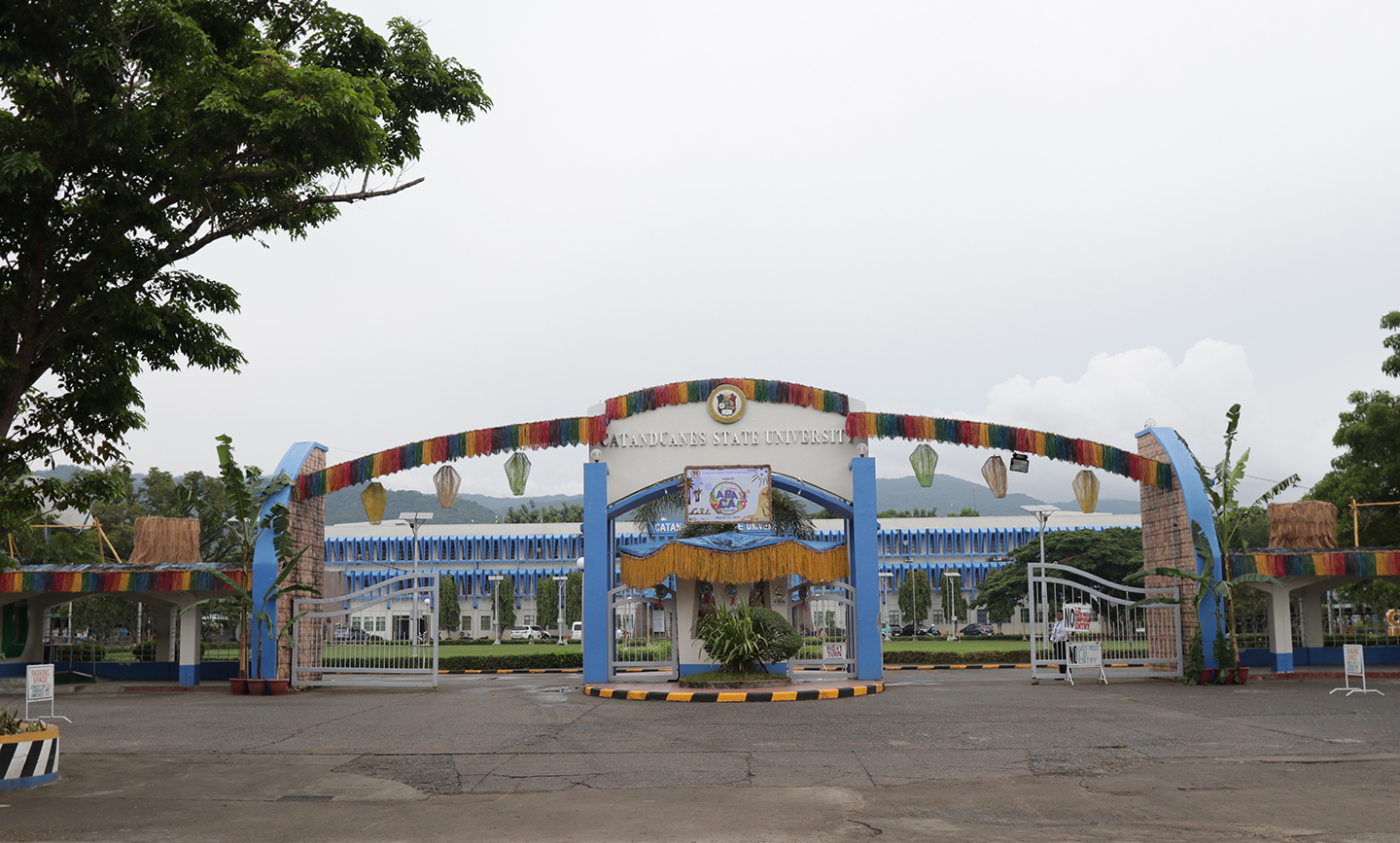 CatSU-RDS CONDUCTS VIRTUAL SEMINAR WORKSHOP ON RESEARCH AND COLLABORATION IN HIGHER EDUCATION
Research
The Catanduanes State University (CatSU) Research and Development Services Office headed by then Research Director, Dr. Jimmy T. Masagca, conducted a virtual seminar-workshop with the theme, "Branding the Green University: New Dimension of CatSU in Research, Development and Innovation" on September 16-18, 2020 at the University Auditorium.


The three-day virtual seminar-workshop on Research and Collaboration in Higher Education which was part of enhancing and strengthening the university's research and development agenda was conducted through online mode given the current approach in flexible educational undertakings. Attendees of the activity were faculty and research coordinators of the different colleges in the university.

Tapped as invited resource persons/speakers during the first part of the virtual-seminar workshop were the following:
Resource speaker

Position

Topic discussed

Dr. Ricardo P. Babaran

Chancellor, University of the Philippines, Visayas (UPV)

Research and Academic Collaboration in Higher Education

Professor of Fisheries, College of Fisheries & Ocean Sciences (CFOS), Iloilo City

Dr. Raul G. Bradecina

SUC President III, Partido State University, Camarines Sur

Dr. Carlo A. Arcilla

Professor, Institute of Geology, University of the Philippines, Diliman

Atomic Energy and Nuclear Research

Director, Philippine Nuclear Research Institute (PNRI) Department of Science and Technology

Dr. Elmer-Rico E. Mojica

Associate Professor, Department of Chemistry & Physical Sciences, Pace University, New York, USA

Molecular Spectroscopy

Adjunct Professor, CUNY New York College, New York City

Arch. Mario L. Alberto

President, United Architects of the Philippines (UAP) Catanduanes Chapter

Built Environment and Green Architecture

Dr. Alma Sorrera- Banua

Professor, Bicol University

Health Science Research and Community Engagement

Former Director, Bicol Consortium for Health Research and Development

Dr. Satoshi Kubota

Professor, Research and Education Faculty, Multidisciplinary Science Cluster, Kochi University, Japan

Nutrition Research and Health Care

Mr. Romeo Valeza, RN

Company Director, Heath Care Services Ltd., London Metropolitan Area, UK

Mr. Jerome Francia

Director, Health & Environment Management Services

Crops Science Research and Innovation

Dr. Daisy B. Badilla

Chemical/Environmental Engineer, Society of Environmental Engineers of the Philippines

Innovative Process and Equipment Design

Raymond J. Sucgang

Philippine Nuclear Research Institute (PNRI)

Wetland Management and Sustainable Conservation Planning

Dr. Jimmy T. Masagca

CatSU, Project IAEA/RCA RAS 7037, United Nations International Atomic Energy Agency (IAEA) Vienna, Austria

To make the event even more remarkable, a virtual seminar (on-site presentations) which features returned and on-going CatSU Master's and PhD scholars during the second part of the program was also conducted to where on-going studies of chosen faculty scholars were likewise presented. These include:
Scholars

School

Topic discussed

Mr. Kristian Q. Aldea

Kochi University, Japan

Marine Benthic Ecology

Mr. John Edmund Manlagnit

Saskatchewan University, Canada

Entrepreneurship

Dr. Gemma G. Acedo

University of Cordilleras, Baguio City

GIS in Crop Agriculture

Resadel O. Santonia

UP Los Baños

Health Foods from Yams

(Dioscoreaceae)

Ma. Monette DR. Tugay

UP Los Baños

Oil Production from Pili (Canarium ovatum Eng)

Dr. Rene V. Torres

Bicol University

Graph and Set Theory Application in Mathematics

Jimmylen Z. Tonio

De La Salle University

Applied Linguistic: Contrastive Textual Analysis
The consultative workshop by group was then followed by the presentations of outputs. Lead persons during the activity were: Dr. Jimmy T. Masagca- RDS Director, Dr. Lily P. Custodio- VP-REPA, Dr.Aurora E. Araojo- Former Student Services Director, Mr.Vicente G. Padilla-Dean of the College of Arts and Sciences and Dr. Edna Pante- Campus Director of CatSU Panganiban Campus.
---