Office of Student Affairs and Development Services
The Office of Student Affairs and Development Services (OSADS), previously known as the Office of Student Support Services (OSSS), is a key institution for student leaders, civilians, and the like at Catanduanes State University (CatSU).
It is responsible for planning, organizing, implementing, and evaluating all university-wide events and activities conducted by recognized student body organizations, their sub-organizations, student publications, religious and social organizations, fraternities, and sororities, with guidance and approval from its Director.
Furthermore, the Office serves as a co-implementer of the university's rules and conduct, including conformity to the proper/prescribed university uniform, proper grooming, student discipline and conduct in relation to the mandate of the student handbook, and other implementing rules and regulations related to student welfare and decency.
The Office also selects, screens, and awards outstanding student leaders and other meritorious individuals who have excelled in their collegiate studies.
Moreover, the Director plays a unique role in coordinating various student welfare activities across different colleges through respective deans/principals to encourage students to engage in social responsibility and foster a sense of belongingness.
The Office of Student Affairs and Development Services also promotes the discovery and development of students' cultural inclination and sports awareness through creative practices such as dance, drama, music, arts, and various athletic and online skills events.
For inquiries, concerns, and clarifications, please visit the Office of Student Affairs and Development Services located at the 1/F Administrative Building of Catanduanes State University during office hours; Monday – Friday, 8:00 AM – 5:00 PM.
You may also contact them through email addresses: catsuosss@gmail.com and osads@catsu.edu.ph, or by phone: +63970 2393 917.
List of Recognized Student Organizations and Student Publications
Political
| No. | Name of Organization | President | Adviser |
| --- | --- | --- | --- |
| 1 | Federated College Student Council | Hon. Angelo Piolo M. Laynes | Prof. Glenn Paul R. Lopez |
| 2 | College of Agriculture and Fisheries SBO (CAF SBO) | Ms. Glarmaine Ivy B. Tañalas | Prof. Joseph D. Tabiosas |
| 3 | College of Arts and Sciences SBO (CAS SBO) | Mr. Jefferson T. Omadto | Prof. Josephine V. Torrente |
| 4 | College of Business and Accountancy SBO (CBA SBO) | Ms. Hannah Jane T. Cassanova | Prof. Eliseo M. Somido Jr. |
| 5 | College of Education Student Organization (CESO) | Ms. Alliyah Dawn A. Tabor | Mr. Charles T. Tresmanio Jr. |
| 6 | Engineering SBO (ESBO) | Mr. Christian Paulo P. Marcos | Engr. Nanette Valeza |
| 7 | College of Health Sciences SBO (CHS SBO) | Mr. John Michael T. Abines | Prof. Julie Ann Vega |
| 8 | College of Information & Communications Technology CSC (CICT CSC) | Mr. Ronanj T. Molina | Prof. Aster Vivien C. Vargas |
| 9 | College of Industrial Technology SBO (CIT SBO) | Mr. Eduardo A. Ternida | Ms. Edmarie S. Buerano |
Academic
| No. | Name of Organization | President | Adviser |
| --- | --- | --- | --- |
| 10 | Agriculture Student Organization (ASO) | Ms. Genevieve Bailon | Prof. Jhomann U. Socito |
| 11 | Agribusiness Eco-Firm (AGRBUSECOSOC) | Mr. John Renniel Mapa | Prof. Fe M. Valledor |
| 12 | Fisheries Student Organization (FISO) | Mr. Francis N. Toltol | Ms. Recie B. Bonaos |
| 13 | Public Administration Student Of Eastern Seas (PASES) | Ms. Ma. Jocel Kate G. Teves | Dr. Rommel R. Regala |
| 14 | Mathematics Society | Mr. John Rey G. Soneja | Prof. Serelino T. Tasarra |
| 15 | Natural Science Society (NATUSOC) | Mr. Earl James T. Tolledo | Ms. Renee Daisy J. Avila |
| 16 | Biological Science Society (BIOSSOC) | Mr. Ryan G. Reyes | Ms. Maribel T. Ralla |
| 18 | Economics Society (ECOSOC) | Ms. Romelyn Ruth L. Idanan | Prof. Noel T. De Leon |
| 18 | Political Science Society (PSS) | MR. Richard Abenir | Prof. Kristine Anne T. Razal |
| 19 | Environmental Science Society (ENVISSOC) | Mr. Jericho T. Obierna | Mr. Reneirio J. Avila |
| 20 | Junior Finance Executives (JFINEX) | Ms. Steffi Pauline A. Panti | Ms. Maureen L. Manoguid |
| 21 | Junior Marketing Association (JMA) | Ms. Jona May S. Arnaiz | Ms. Rosemarie M. Lao |
| 22 | Young Entrepreneur's Society (YES) | Mr. Allan G. Tolledo | Ms. Ma. Gazel C. Briñes |
| 23 | Philippine Association of Students in Office Administration (PASOA) | Mr. Lawrence D. Tañon | Ms. Alice Rojas |
| 24 | Junior Philippine Institute of Accountants (JPIA) | Mr. Darcy Rinsfer B. Tabor | Ms. Michelle M. Candelaria |
| 25 | Future Physical Educators' Association (FPEA) | Mr. Michael John T. Rima | Mr. Mark Anthony R. Dalipe |
| 26 | Elementary Educators Of Tomorrow (EEDTO) | Mr. Jovenson B. Vitalicio | Dr. Leonor S. Turbolencia |
| 27 | Future Culture and Arts Educators' Association (FCAEA) | Ms. Janina D. Collantes | Dr. Jose Z. Tria |
| 28 | Future Mathematics Educators Association (FuMEA) | Mr. Marlon S. Soliveres | Prof. Eric V. Evangelista |
| 29 | Lingua Poetica Society (LPS) | Mr. Jeremy M. Gacula | Dr. Rosana S. Abundo |
| 30 | Samahang Nagpapakadalubhasa sa Filipino (SaNaFil) | Mr. Denver T. Aranda | Ms. April Grace Lazado-Maca |
| 31 | CatSU Koro Hubilyo Council (CatSU-KHC) | Mr. Bill Joemar F. Camacho | Dr. Jose Z. Tria |
| 32 | Social Studies Guild (S.S.G) | Mr. Nick Russel L. Ocray | Prof. Amy T. Moraña |
| 33 | Asociacion Dela Ejemplos (A.D.E) | Ms. Maria Joyce M. Tatel | Prof. Jowi B. Resayaga |
| 34 | Biological Science Educators Society (BioSES) | Ms. Shaira Nicole P. Taduran | Ms. Lyka B. Llabres |
| 35 | Institute of Computer Engineers of the Philippines.Student Edition - CSU Chapter (ICpEP.SE) | Ms. Agnes Angela T. Doblon | Engr. Lyndon T. Buenconsejo |
| 36 | United Architects of the Philippines Student Auxiliary (UAPSA) | Mr. Rommel C. Tagle | Ar. Jennylen R. Vargas |
| 37 | Philippine Institute of Civil Engineers (PICE) | Ms. Lilian Kaye I. Bernardo | Engr. Rene Constantine J. Avila |
| 38 | Fourth Year Engineering Student Association (FYESA) | Ms. Maryson Anne L. Tabuzo | Engr. Mark Lester D. Rojas |
| 39 | Nutrition and Dietetics Association (NDA) | Mr. Vince Ivan S. Avila | Ms. Mischelle L. Condeno |
| 40 | Philippine Nursing Students Association - Bicol Catanduanes Chapter (PNSA) | Ms. Solenn Angeleigh P. Tresmanio | Dr. Jay Aries T. Gianan |
| 41 | Mathematics Circle | Ms. Yaezhe Ann T. Burac | Ms. Rowena T. Tablate |
| 42 | Samahang Sentral ng Filipino (SSF) | Mr. Anthony M. Tatel | Mr. Jaime T. Amante Jr. |
| 43 | Central English Club (CEC) | Ms. Toni Rose D. Somido | Prof. Romeleen Go-Vela |
Social
| No. | Name of Organization | President | Adviser |
| --- | --- | --- | --- |
| 44 | Organized Reservists of Catanduanes State University School-Based National Service Reserve Corps Unit | Mr. Christian Jay B. Dogello | Prof. Emlyn M. Lanon |
| 45 | CatSU Peer Facilitators Club | Mr. Christian Jay B. Dogello | Ms. Janette O. Labayani |
| 46 | Catanduanes Knowledge Pantry (CKP) | Mr. John Edward E. Sabeniano | Dr. Adem Nalu V. Rubio |
| 47 | CatSU Debate Society | Ms. Francine May T. Tayo | Dr. Adem Nalu V. Rubio |
| 48 | The Karibangbang | Mr. Mack Neil T. Vital | Ms. Reashiela L. Khan |
| 49 | CatSU Central Women's Circle | Ms. Crystal Jayden E. Taperla | Ms. Reashiela L. Khan |
| 50 | CHS Women's Club | Ms. Crystal Jayden E. Taperla | Prof. Helen S. Romero |
| 51 | CAF Women's Club | Ms. Rica Apuyan | Prof. Fe M. Valledor |
| 52 | CHUMMS Women's Club | Ms. Therese Carmel D. Socito | Ms. Grace T. Marquez |
| 53 | CEA Women's Club | Ms. Ma. Melissa Joy V. Talion | Engr. Karen Joi P. Beo |
| 54 | CBA Women's Club | Ms. Ella May A. Casalla | Prof. Ma. Concepcion V. Marquez |
Religious
| No. | Name of Organization | President | Adviser |
| --- | --- | --- | --- |
| 55 | Talmids on the Move | Mr. Santos Bongon | Engr. Richmonilyn A. Salvador |
| 56 | Agape Generation | Mr. Adhrian Psalm M. Zuniga | Prof. Joel T. Olfindo |
| 57 | Solus Christus Ministry | Mr. Ryster J. Villarete | Ms. Julie Ann T. Vega |
| 58 | Missionary Families of Christ - Campus | Mr. Prince Orland R. Valeza | Atty. Gregorio M. Sarmiento Jr. |
| 59 | Adventist Ministry to College and University Students - Catanduanes State University Chapter | Ms. Miguela N. Abraham | Ms. Glenda L. De Blanco |
| 60 | CatSU Roman Catholic Campus Ministray | Ms. Rebecca L. Vera | Prof. Emlyn M. Lanon |
| 61 | Student Association for Catanduanes Exemplary | Mr. Roziel M. De Nava | Ms. Rosemarie M. Lao |
Laboratory Schools
| No. | Name of Organization | President | Adviser |
| --- | --- | --- | --- |
| 62 | Pupil Government Organization (PGO) | Ms. Sophia Denise T. Garcia | Ms. Lorena M. Villamor / Mr. Paulo I. Bernardino |
| 63 | CatSU Laboratory High Schools Student Body Organization | Ms. Ma. Rachelle M. Rojas | Mr. Kevin M. Escobido |
Fraternities and Sororities
| No. | Name of Organization | President | Adviser |
| --- | --- | --- | --- |
| 64 | Tau Gamma Phi/Tau Gamma Sigma | Mr. Frank Edzel Canon | Mr. Edsel Tacorda |
| 65 | Alpha Phi Omega Zeta Nu Chapter | Mr. John Paul T. Tuplano | Prof. Ma. Luz A. Floralde |
| 66 | Beta Sigma Fraternity and Sigma Beta Sorority | Mr. Juan Jaime V. Velchez | Prof. Amy T. Moraña |
| 67 | Alpha Kappa Rho International Humanitarian Service Fraternity | Mr. French E. Delos Santos | Prof. Ma. Concepcion V. Marquez |
Publication
| No. | Name of Organization | President | Adviser |
| --- | --- | --- | --- |
| 68 | CSU Statesman | Mr. Cyr Ernest T. Tevar | Mr. Francis John B. Templonuevo |
| 69 | The Cornerstone | Ms. Frances Louela Joyce C. Reyes | Engr. Morris U. Aquino |
| 70 | Daliwawa | Mr. Wilson T. Cabrera Jr. | Ms. April Grace Lazado-Maca |
Directory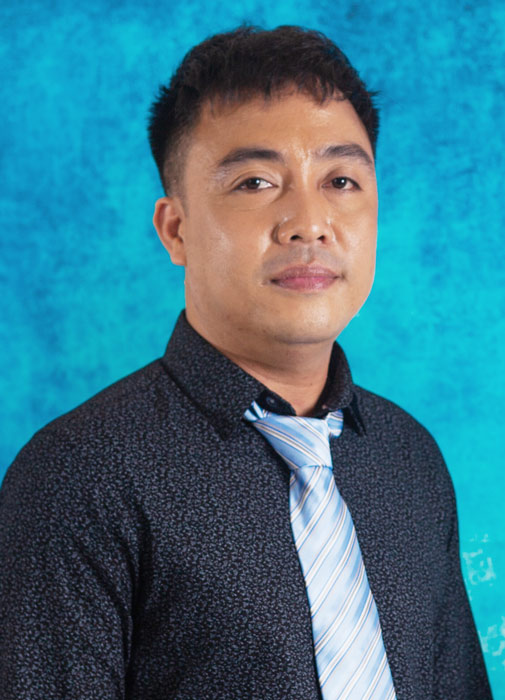 Prof. John Cyrus B. Francis
Director

catsuosss@gmail.com
osads@catsu.edu.ph
0970-239-3917
CatSU OSSS