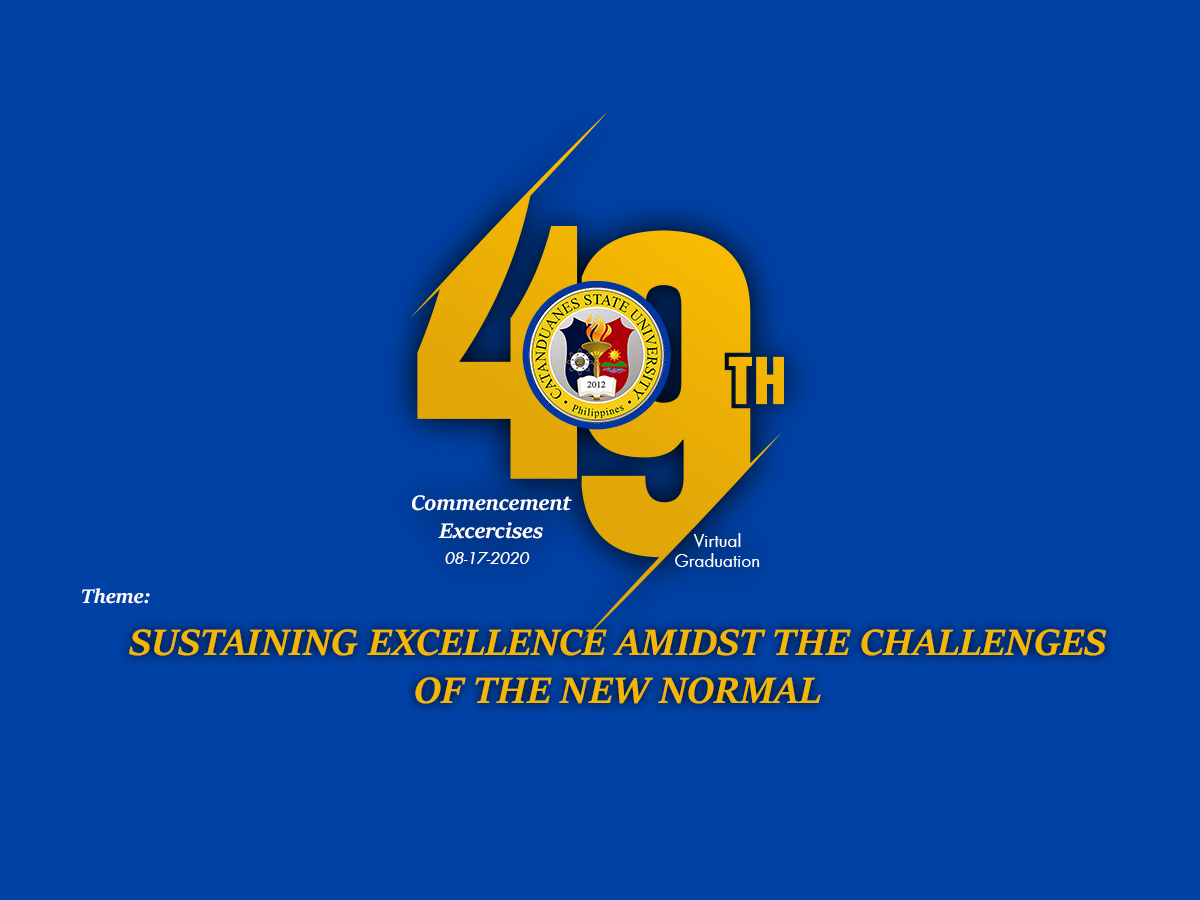 CatSU holds 49th commencement exercises in virtual mode
Students
The Catanduanes State University (CatSU) held its 49th commencement exercises, this time apart from the usual ceremonies every year due to the Covid-19 scare. Preceded by a Holy Mass in the morning at the Immaculate Conception Cathedral, the activity was done through virtual mode in the afternoon at the CatSU main campus, on August 17, 2020 with the theme, "Sustaining Excellence Amidst the Challenges of the New Normal." There were 751 who graduated during the AY 2019-2020 where 66 of them came from the University's Panganiban Campus.
Officer –in-Charge President and CHED RO-V Regional Director, Dr. Freddie T. Bernal, led this year's commencement exercises, together with the different Deans, other school officials, and the faculty. This year's commencement speaker was Dr. Aldrin A. Darilag, Commissioner in the Commission on Higher Education (CHED) and Chairman of the CatSU Board of Regents.
Dr. Bernal, the University OIC President congratulated this year's batch of graduates as he exhorted them "to pursue one's dream, no matter what setbacks may come." He noted the difficult times that the graduates have come through with the onset of Corona virus pandemic.
"All of a sudden, our lives have become perplexing, unusual and uncertain, as we try to gather a sense of normalcy amidst the new normal. As recession, unemployment and health crisis beset our country today and the rest of the world, may you have every reason to earn a decent living commensurate to what you have attained, and be among the conscientious citizens as a nation," OIC President Bernal said in his message to the graduates.
Meanwhile, Commissioner Darilag expressed his appreciations to the graduates and challenged them to use their education to work for the nation. "You are fortunate to have been given the opportunity to earn your respective college degrees, at a time that the pandemic has significantly hit our education sector—that is, according to the UNESCO Covid-19 Educational Disruption and Response Task Force through its Global Monitoring Report on School Closures, more than 3.5 million Filipino college students have been affected by the pandemic," Comm. Darilag said.
"Your experiences and your perspectives," said Comm. Darilag, "will shed light on the university's pursuit to better understand how the challenges in the new normal can be addressed; and we invite you to continue your commitment to the values and truths of the university, that is, to sustain excellence not only to yourselves but for the advancement of Catanduanes and of the entire country."

---